COBANK DONATES $10,000 TO KANSAS AGRICULTURE AND RURAL LEADERSHIP
MANHATTAN, Kan.  – Ron Rahjes, a graduate of  Kansas Agriculture and Rural Leadership (KARL) Class I,  has designated $10,000 be contributed by CoBank on his behalf to the KARL Program for 2013.   Rahjes is a member of the cooperative bank's board of directors. Rahjes is a partner in a family farming corporation that produces wheat, corn, soybeans, and grain sorghum, and is owner of R&C Tax Service, an accounting and tax firm in Kensington, Kansas.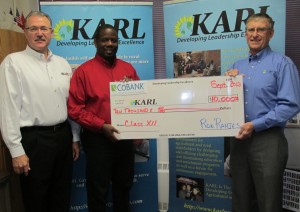 KARL is a two-year program that provides intensive study, training and travel opportunities for emerging leaders in the state's agriculture and rural communities. Since 1990, the non-profit has helped develop decisive, informed spokespeople to be effective representatives for the ever-changing farming and ranching industries.
Costs for each class are about $600,000. "The generosity of donors such as CoBank  is critically important to the continuation of our efforts to create ambassadors for rural communities, agriculture and the way of life associated with each of those," said Al Davis, president of KARL. "This gift will benefit the current Class XII members by helping us maintain a cutting edge training experience for rural Kansas leaders."
Rahjes was a member of KARL's first class and attributes his many leadership roles from the local through the national level to his KARL experience. Since Ron's class of 30 graduated, more than 330 more participants from 101 of Kansas' counties have been able to participate in the 12 seminar series.  "I had the distinct privilege of being selected to participate in this program and what I learned has been invaluable to me over the years," he said. "CoBank's donation will help KARL in its mission to develop strong, progressive leaders for our communities."
The contribution is part of CoBank's corporate giving program, which allows employees and board members to direct bank donations to their choice of non-profit organizations and programs.
About CoBank
CoBank is a cooperative bank serving vital industries across rural America. The bank provides loans, leases, export financing and other financial services to agribusinesses and rural power, water and communications providers in all 50 states.
CoBank is a member of the Farm Credit System, a nationwide network of banks and retail lending associations chartered to support the borrowing needs of U.S. agriculture and the nation's rural economy. In addition to serving its direct retail borrowers, the bank also provides wholesale loans and other financial services to affiliated Farm Credit associations serving more than 70,000 farmers, ranchers and other rural borrowers in 23 states around the country.
Headquartered outside Denver, Colorado, CoBank serves customers from regional banking centers across the U.S. and also maintains an international representative office in Singapore. For more information about CoBank, visit the bank's website at www.cobank.com.