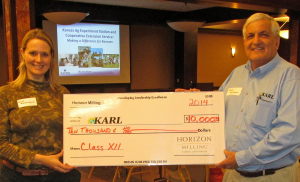 MANHATTAN, Kan. – Horizon Milling of WAYZATA, MN has donated $10,000 for the Kansas Agriculture and Rural Leadership Class XII program.
As a leader in the flour milling industry, Horizon Milling was formed as a joint venture uniting the milling expertise of Cargill, Inc. and CHS, Inc.  Horizon Milling is uniquely positioned to respond to the ever-changing needs of the future, going beyond supplying the consumer with top-quality ingredients by offering:
Milling expertise you can rely on to get the best performance from your baking ingredients.
National resources to bring you more ingredient options.
Innovative people to share new ideas in product development, efficient delivery, risk management and more.
KARL is a two-year, non-profit program that provides study, training and travel opportunities for emerging leaders in the state's agriculture and rural communities. Since 1990, it has helped develop decisive, informed spokespeople to be representatives for the farming and ranching industries. Costs for each class are about $600,000.
"The generosity of donors such as Horizon Milling is critically important to the continuation of our efforts to create ambassadors for rural communities, agriculture and the way of life associated with each of those," said Al Davis, president of KARL. "This gift will benefit the current Class XII members by helping us maintain a cutting edge training experience for rural Kansas leaders."
Natalie Gosch, a Facility Manager for Horizon Milling in Newton, Kansas and a member of KARL's Class XI, was instrumental in securing this donation. "Horizon Milling is a proud supporter of the KARL Program and Kansas Agriculture and very pleased to support the KARL leadership program."
Since its beginning, KARL has had 11 classes of 30. These 330 members from 101 of Kansas' counties have participated in the program. KARL Graduates have gone on to be in leadership roles in all of the major commodity associations, including the Kansas Livestock Association.